Albert Ernest "Beanie" Backus (January 3, 1906 – June 6, 1990) Born in Fort Pierce, FL to a family of talented boat designers and builders.
Bean's first job was painting advertising posters for the local motion picture theatre.
His "Uncle" Reg Goodwin helped Backus as a young painter go to the Parsons School of Fine Art in New York.
He was referred to as "Florida's painter laureate," and the "Dean of Florida's landscape painters."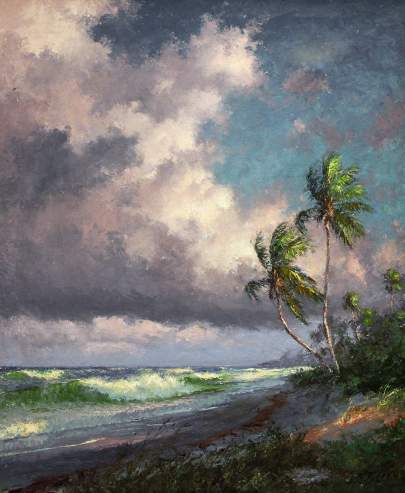 Backus spent a lifetime teaching, encouraging, and influencing many artists.
In addition to his influence on the Florida Highwaymen painters (Alfred Hair being the only Highwaymen artist that took lessons with Backus),
there is an unknown number of Backus students.
These artists are referred to as the "Indian River School" of painters.
Some of these artists include:
Don "D.D." Brown (b.1947)
Mary Coulter
Jacqueline "Jackie" Schindehette
Therese Knowles (1918-2008)
Jackie Brice (b.1936)
James "Jim" Hutchinson (b.1932)
Richard Kelly
Nora Summerlin
Kevin Hutchinson
Sam Vinikoff (1919-2010)
Kasper Zimmermann (1927-2002)
Margaret Zierer Smith (1913-2004)